After weeks of speculation
Chelsea Clinton
and Marc Mezvinski are now husband and wife. It has been a crazy week for the people of the small town call
Rhinebeck, NY
and even crazier all the paparazzi who spent the weekend tirelessly trying to get a shot of the A LIST Attendees. When you have 400 guests coming the such a big wedding like the Clinton's it's important to keep in on the low, although that's not usually the case. When you're the former
first daughter
of the United States nothing you do stays in secrecy even you're trying to do so... Chelsea tried really hard to keep designer of the gown hush hush and that did not happen, because on Friday there was speculation that She was spotted in
NYC
at the Vera Wang shop. TA DA-- THERE YOU HAVE IT... After all Chelsea chose
Vera Wang
as the designer of her gown for the lavish wedding; her beautiful princess dress is a strapless white gown with a full skirt and silver beading around the waist. I really love the gown, it's very elegant and sophisticated.. the couple made a great statement as they brought together both church in unison. The ceremony was conducted by a rabbi and a Reverend as Chelsea Clinton is Methodist and Marc Mezvinsky is Jewish also included a poem by
Leo Marks
titled "
The Life That I Have"
The former president and the secretary of state released this statement to show their joy and affection for their only daughter and son-in-law. "
Today, we watched with great pride and overwhelming emotion as Chelsea and Marc wed in a beautiful ceremony at Astor Courts, surrounded by family and their close friends,
" the Clinton's said. "
We could not have asked for a more perfect day to celebrate the beginning of their life together, and we are so happy to welcome Marc into our family. On behalf of the newlyweds, we want to give special thanks to the people of Rhinebeck for welcoming us and to everyone for their well-wishes on this special day."
Chelsea and Marc are now husband and wife.. Congrats to the couple
First family photo of the multi-million dollar wedding..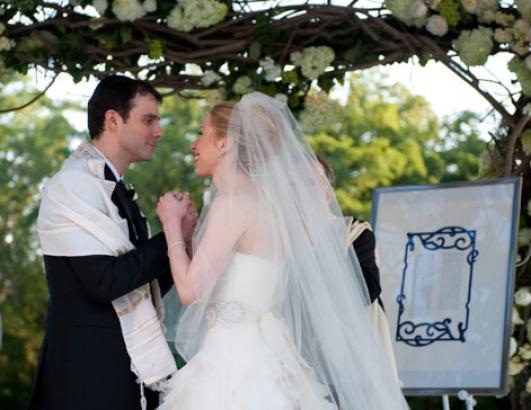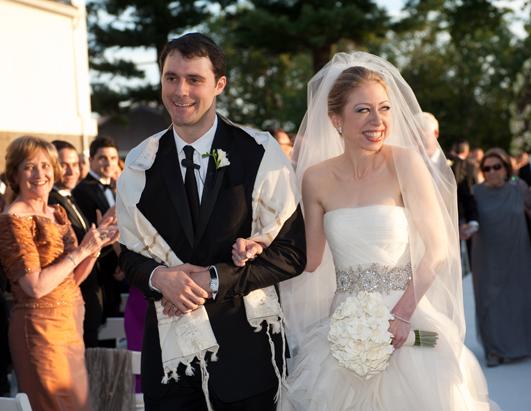 the Gown is by the designer Vera Wang and she did not disappoint.

.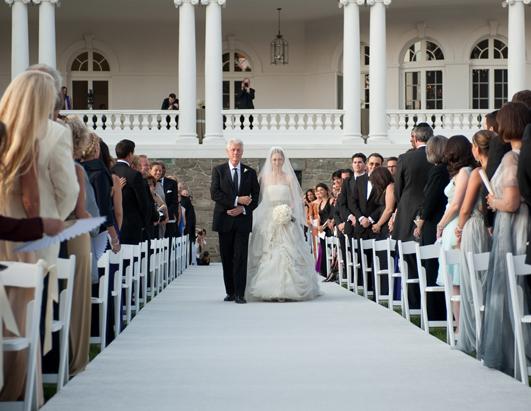 Former President Bill Clinton walked his only daughter down the aisle
The small town of Rhinebeck, NY trying to catch a glimpse of the big event



They always in style...
Many congrats to Chelsea and Marc!!!!!!!!